QUESTION: Our CC&Rs state the Architectural Contr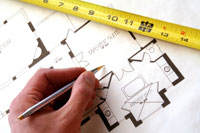 ol Committee may require a person submitting plans to obtain approval of governmental agencies. Is there a legal obligation for our association to do this and what are the dangers and legal ramifications to the association if it does not?
ANSWER: There is no obligation that your architectural committee demand proof that owners obtain building permits since the language in your CC&Rs is permissive rather than mandatory. Despite the language, homeowners have an independent obligation to obtain permits. Policing that obligation falls to the city or county in which the association is located.
Good Practice. Even so, many condominium associations require proof of a building permit before an owner's remodel/construction can proceed. The reason is that construction in a condominium impacts common areas. Requiring a permit as part of the architectural approval process means the association can have a reasonable expectation that any alterations to the common areas will comply with building codes.
RECOMMENDATION: Every association should have written architectural standards with approval procedures. In addition, boards should seriously consider using a remodeling agreement (drafted by HOA legal counsel). Approval of architectural applications can be conditioned on the owner signing the agreement which obligates him to: (i) obtain a building permit, (ii) use licensed and insured contractors, (iii) not deviate from plans without approval, (iv) follow the rules, and (v) other requirements as may be appropriate. In addition, any significant alterations to the common areas should require a recorded covenant obligating the owner to maintain those alterations.
SWIMMING POOL
"GUESTS"
QUESTION: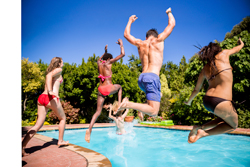 A renter today allowed his cleaning crew of three woman to bring 11 children, teens and adults to our community pool. Yes, they had a key. They were in the pool for three hours including feeding everyone lunch. The renter was not there since he goes to work at 7 a.m. and comes home after 8 p.m. What liabilities go along with this activity? Can we do anything?
ANSWER: Yes, there is plenty you can do. Neither the owner nor his tenant has the right to allow vendors, contractors, or domestic help (plus families and friends) to use the association's facilities.
Liability. The potential liability is the same as if members used the pool, i.e., injuries and/or drownings that result in lawsuits. However, the chance for injuries increases with the number of children–especially if they are unsupervised. Another negative is the unhappiness of your members over strangers using the pool.
Rules & Regs. If you don't already have pool rules, your board needs to adopt rules that: (i) the pool is for residents and guests only, (ii) guests must be accompanied by the resident, and (iii) guests are limited to three. The number of guests can vary from association to association so long as the limitation is reasonable. With rules in place, interlopers can be asked, politely, to vacate the pool area (or any other common area facility).
Rekey the Pool. In addition, the unauthorized "guests" can be required to surrender their key to the association. If they refuse, you should not get into a wrestling match with the person. Instead, you can rekey the facilities and charge the thoughtless owner for the expense (following a reimbursement hearing).
Hearing & Fines. You can also hold a disciplinary hearing with the owner and his tenant. If the board finds the tenant violated the rules, fines can be levied and pool privileges suspended for up to thirty days.
Discrimination. The real danger for associations is the drafting of the rules. Too many get themselves in trouble for discrimination against families with children. There are plenty of rights advocacy groups out there that will happily sue associations for discrimination. You want to make sure you're not one of the suees.
RECOMMENDATION: Have legal counsel review your rules.
FEEDBACK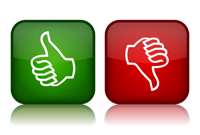 Newsletter #1. Adrian, you make my day with your humor. It is difficult being a board president and I appreciate all the smiles I can get! -Vickie B.
Newsletter #2. I am inspired, informed and stimulated every Sunday by your newsletter. Thank you so much for providing us with your knowledge and wisdom! -Denyse B.
Newsletter #3. I just want you to know I appreciate your weekly newsletter. The questions posed are interesting and make me aware of issues facing other groups. Keep up the good work! -Sammie B.

Newsletter #4. Loved, LOVED your joke about growing freeways via watering them! -Gary F.
"Much More Than Just a Law Firm!" We're friendly lawyers–boards and managers can contact us at (800) 464-2817 or info@adamskessler.com.