It's time to break out your suits and gowns. Our Gala is Friday. It is black-tie preferred, which means men should wear tuxedos or dark suits and women should favor dresses and gowns.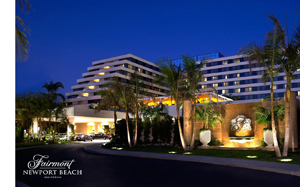 Valet parking is provided by the firm of Epsten, Grinnell & Howell as you pull into the circle drive at:
The 6:00 p.m. Reception will be in the Bamboo Pavilion which will have a hosted bar so you can enjoy hors d'oeuvres and a glass of wine while listening to chamber music from the Arroyo String Quartet and mingle with friends and colleagues.

The Ballroom doors open at

7:00 p.m.

where you will be welcomed with opening remarks by Adrian Adams (that's me) and then entertained by singer/pianist Le Grand Barr during dinner which includes table wine (a cash bar will be available for those who want something other than wine.) Our menu includes:
Salad: Organic greens over dried tomatoes, fried shallots, crumbled goat cheese with red wine and shallot vinaigrette, and freshly baked artisan bread.

Entree: A duet of cedar plank smoked salmon brushed with fireweed honey and grilled New York steak with Bearnaise sauce accompanied by asparagus and twice baked potato.

Dessert: Salted caramel cheesecake with dark chocolate crust and coffee or Fairmont tea.
During dessert you will enjoy the box office hit video "50 Shades of HOAs" which features man-on-the-street interviews about homeowner associations. See our teaser.
Our Emcee for the evening is Steve Roseman, whose soft South African accent will tickle your ears. Executive Director Karen Conlon will provide an overview of the astonishing dimensions of the CID industry in California and its three key organizations: CAI, ECHO and CACM.

Prof. Katharine Rosenberry will take the podium and talk about the chaotic process thirty years ago of drafting what became landmark legislation. Her stories of what she and Task Force members went through are humorous and entertaining.
Senator Larry Stirling has his own amusing spin on events leading up to the mad dash to pass the legislation once Speaker Willie Brown gave his okay to the project.
The charismatic former Assembly Speaker and Mayor of San Francisco Willie Brown will be our Keynote Speaker. Unquestionably one of most powerful men in California when he approved the project, Speaker Brown has his own stories to tell.
The awards portion of the evening will be led by industry leaders Jon Epsten, Robert Riddick, Lisa Dale and Debra Warren. Awards will be given to each of the honorees for their work on the original Davis-Stirling Act.
Steve Roseman will describe the extraordinary work by the California Law Revision Commission rewriting, reorganizing and renumbering the Davis-Stirling Act. An award will be presented to Brian Hebert on behalf of the Commission.
We will have closing remarks followed by music by Le Grand Barr as we conclude the event. It will be an exciting and historic evening. I look forward to the pleasure of your attendance.
Sincerely,

Adrian J. Adams, Esq.
President
Foundation for California
Community Association Education